Sharon Fergusson Memorial Barrel Race – Rimbey, Alberta Canada – May 26, 2018 Results
Western Fortunes would like to thank everyone for coming out to remember a very special lady, Sharon Fergusson!
We would also like to congratulation another special lady, Kim Gerwatoski! She piloted her great gelding, SR Famousinparadise sired by Hezgottabefamous and out of Chicky Kilo Doc (Docs Paradise* x Chicky Kilo Jo) to the Western Fortunes 1D win!
Congratulations are also in order for Doug & Carol Schaffer, not only did they take home the stallion winnings but the breeder's winnings as well!
Thank you to the event producers, for not only organizing such a great event, but for inviting WF to be a part of it!
Western Fortunes – Sharon Fergusson Memorial Barrel Race
May 26, 2018, Rimbey, Alberta Canada – $5,000 Added
Open 1D
1)SR Famousinparadise, Devon/Kim Gerwatoski, $300.00; Hezgottabefamous, Doug/Carol Schaffer, $180.00; Doug/Carol Schaffer, $120.00
2)Whiplash Ta Fame, Christine Drisner, $247.50; Hezgottabefamous, Doug/Carol Schaffer, $148.50; Lorie McIvor, $99.00
3)Waveonthewayby, April/Shawn Williamson, $202.50; Ninety Nine Goldmine, William/Donna Beierbach, $121.50; Rigetti Farms Ltd, $81.00
Open 2D
1)Possible Rockstar, Kenda Butterfield, $270.00; Perfect Possibility, Dee Butterfield, $162.00; Shelley Kormilo, $108.00
2)Frenchmans Ez Effort, Joanne/Jerry Moreside, $222.75; Frenchs Hula Guy, Jodie Neudorf, $133.65; Joanne/Jerry Moreside, $89.10
3)Kmperfect Lineoffire, Krystal Moren, $182.25; Perfect Possibility, Dee Butterfield, $109.35; Krystal Moren, $72.90
Open 3D – Only two competitors placing – Payout 54% – 46%
1)Raisin A Major Lady, Stephanie Eastman, $310.50; Perfect Possibility, Dee Butterfield, $186.30; Dee Butterfield, $124.20
2)BQD A Perfect Scrutin, Jan Bischler, $264.50; Scrutin Beduino, Bonnie Daines, $158.70; Bonnie Daines, $105.80
Open 4D
1)SF Solano Six Moons, Crystal Nicholson, $200.00; Deputy Chester, Simmone Fowler, $120.00; Simmone L Fowler, $80.00
2)Fasttrack Ta Fame, Charlene Humphrey, $165.00; Hezgottabefamous, Doug/Carol Schaffer, $99.00; Marci D Wilson, $66.00
3)SF Tuff Lil Frenchman, Jayne Pepper, $135.00; Frenchs Hula Guy, Jodie Neudorf, $81.00; Simmone L Fowler, $54.00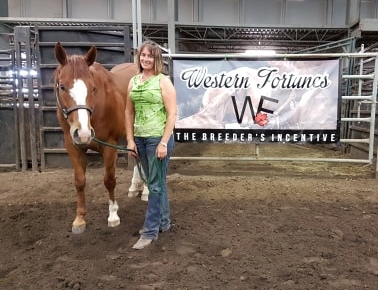 Category: Results