In the posts previous to this one I wrote about writing your ad, taking pictures that sell and taking video to support all this. Now I'd like to talk about how and where to market your horses for sale.
Gone are the days of placing your horse for sale in the local or rodeo newspaper and waiting for the phone to ring once it was published. Now we're able to post our ads in many different places and have it published instantly into an online classifieds system. Technology has allowed this, but it's also amped up the expectations and demands of prospective buyers. We can now sell horses to people we've never heard of thousands of miles away. All the more reason to properly present your horses for sale as many people these days won't drive a half hour without seeing a picture or asking for a video.
From small to big businesses, everyone is defining Video marketing strategies for branding themselves over digital platforms.
If to talk about the success rate of employing videos in the marketing plan, the outcome is incredibly good.
Marketers & businesses agreed that Videos' are yielding both engagement & ROI to them.
Following Renderforest Survey, with videos,
78% of the users achieved more traffic to their website.
71% experienced an increase in the average time spent on their site.
69% of users get the benefit of generating more leads than before.
54% of users experienced a hike in their sales.
Isn't the outcome surprising?
If it seems a new thought to you– this article will help you to unfold the concept, benefits, and ways for creating a video marketing strategy for your business.
What is Video Marketing?
It is an online marketing technique to promote your brand, products, or services with videos that convey the right message to your audience. The aim of using this technique is to improve your branding, achieving good customer engagement, and ultimately to close a good number of Sales.
If we closely look at this concept, then it was never new to us. We've all come across those TV ads amid our favorite shows.
What are they meant for?
Through those ads, the brands aim to advertise their products & services in the way of a well-defined performance. They aim to attract potential buyers through a medium of video advertising.
And we would all agree that those TV ads influence us to make a purchase comparatively to newspaper or radio ads.
Video marketing dominates over other forms of digital marketing.
Let's see the reason behind it.
We, humans, absorb data from the outside world and process it using 5 sensory channels – hearing, vision, smell, touch, and taste. Basing on this, psychologists have defined 3 learning styles that indicate the individual's preferred means of learning new things.
65% of the population are visual learners, and they comprehend the world by seeing it;
Around 30% of people are auditory learners, so they better pick up new information and ideas through listening;
The other 5% are kinesthetic learners – they need to touch, smell, or taste an object to get familiar with it.
These stats make it clear why video is such a powerful tool to get to the minds of people: it appeals to 2 main channels of perception – vision and audition – at once.
With the mix of moving image and audio, it is even possible to evoke other sensors and make people experience the full range of emotions. That's why ASMR videos are so popular these days.
Thus, to create a video that would touch the hearts and stir the minds, you need to harmonically mix the two media.
Before you start
1. Respect the copyright
Let's start with some regulations, and then we promise to get to more creative and inspiring stuff.
You probably know that almost everything on the web – including music – is copyrighted and requires a sort of permission to be used. We advise not to neglect this fact and be compliant with the regulations.
Platforms are quite strict about the use of copyrighted music in videos and it's not a good idea to try cheating them. Algorithms are smart, and they will detect copyright infringement.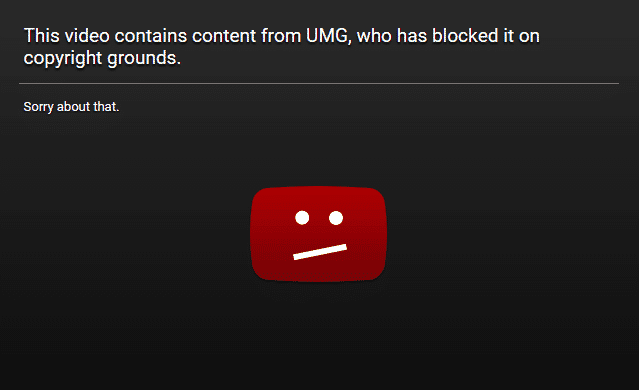 Blocking the video from watching is probably the best thing to happen in this case. The worst scenario comprises a lawsuit and penalties.
It is very disappointing to spend time on the video creation only to discover you are not able to share it with the world because of the copyright issues.
But don't get discouraged just yet! To avoid unwanted situations, you only need to figure out some subtleties of music licensing and follow the recommendations below.
Copyright: how to check permissions and restrictions
There are 6 different types of licensing that protect the intellectual property for music creatives. They vary depending on the use case, which is quite complicated.
But there is a quick and easy way to check if you can legally use a particular song the way you want to. This trick is applicable in case you want to add some well-known music to your video. Save a lot of time just by using audiosocket music licensing platform.
For instance, you are confident that the original version of I Believe I Can Fly is the only possible match for your skydiving video-classes. Nice choice!
Now go to the Youtube Music Policies section, type in the name of the song in the search field and see the summary.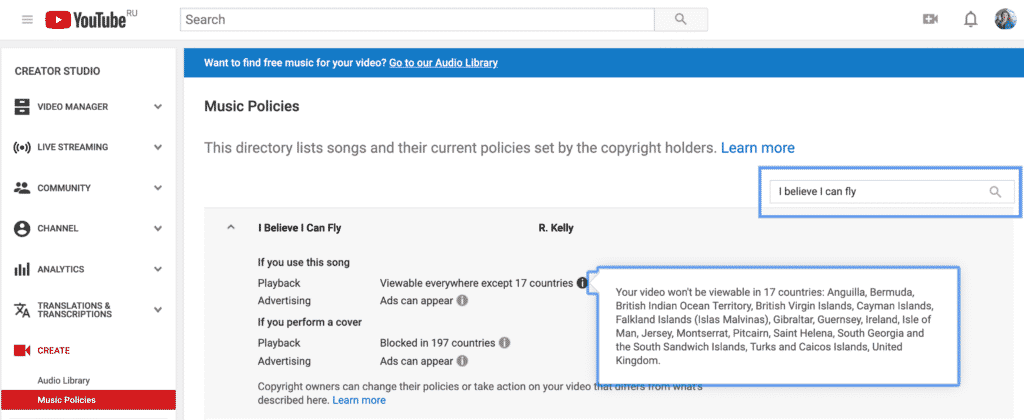 Well, two things to consider:
If your target audience lives in any of the 17 listed countries, they won't be able to see your videos.
It is highly probable that your video will be monetized by the owner and ads will appear.
Anyways, keep in mind that the copyright owner has an exclusive right to change the policies anytime, what will inevitably affect your creative.
Also, YouTube's directory doesn't have information on each and every song. If you can't find it there, you have to continue the research.
Why is Video Marketing so Effective?
Before I begin mentioning the reasons that favor video marketing, I've got a question for you.
If at this moment, you wish to explore some information or want to understand something minutely- Which online platform will you initially look for?
"YoutTube" (without a second thought..)
Well, everyone will.
From taking updates about what's going on in the world, to begin with, coding, checking expert reviews on the latest smartphones to try out new food recipes, DIY makeup & hairstyle tips to learn your ideal dance style… and to everything, YouTube has got you covered to expand your knowledge in any area.
You might be surprised to know that according to the statistics, YouTube is the most demandable social media platform, among other choices.
If to talk about the figures, then 1 billion hours of content is watched over Youtube every day. This video platform attracts 44% of total internet users. It has approx. 2 billion monthly active users. 60% of people prefer YouTube to watch content rather than TV.
When marketing, think big. Remember there are thousands of other horse owners you've never met. Sure, you may sell your horse to someone you know, but don't limit yourself to just that network.
Facebook, for example, has been a great place to sell because you can post your horse for all your friends to see. It takes the traditional word of mouth to a new fast-paced level. There are also groups you can post to but Facebook is making it harder to post live animals because it's actually against their rules (to post live animals for sale). That's why we see papers for sale and live lawn mowers for sale. It really takes the professionalism out of it when screen captures are being used and ads are very vague. It also makes it a lot harder for you, the seller when your ad isn't approved and you spend your evening getting creative, all the while losing the presentation you worked hard to put together.
What I suggest as a fellow seller is to post your ad on a website that specializes in promoting the type of horse you are selling. It may cost you some money, but it won't cost you your entire evening trying to figure out how to get your ad approved. A site like Rodeoclassifieds specializes in connecting serious sellers with serious buyers. There are other great sites out there too, where you get what you pay for.
Once you have your ad on an established site like this, you can then take your link and post it to your profile on Facebook for sharing or to a group. This sets you apart from other sellers in that you have a professional presentation of your horse and you can post it here and there without having it removed.
You may have noticed that when your friends share their ads with different groups you will get a notice for each one. What I recommend is that that you share with each group at a different time of day. That way you spread the notices out and you're more likely to have someone open them. You may have also noticed that it's rare that you would get a notice from someone that's not your friend posting to the group. This is an example of how it's not a great way to market to people outside your already established network from your personal page. It would take someone going through all the tack and clothing ads to find your horse for sale ad if they weren't already your friend.
I don't want to come off like I'm knocking Facebook as a way to sell horses. It's an important part of your marketing and networking plan no doubt. What I recommend is that you use it in conjunction with a site that establishes you as a professional, serious seller. You've gone to the work of getting great pictures and writing a nice ad, now put it together in a premade template like we have here at Rodeoclassifeds.com.  We also share our ads on Facebook so that we can reach even more people on your behalf. It's teamwork between you and the site you chose to help your horse find a great new home.
It's no different with saddles and trailers. Spread the word to as many places as you can, reaching outside our your friends' network. There are hundreds of thousands of horse people out there.
If you run a business page for your horse program, remember that not everyone that likes your page is going to see the ads you post. Facebook wants you to pay for advertising if you own a business. It may be a good idea to boost your post to the people that already like your page to increase your reach. You can also do more advanced boosts, but that's for another post. This isn't an option if you're just on your own personal profile.
Selling online has opened a whole new world and opportunity to reach people both near and far. Rodeoclassifieds has been online since 2000 and continues to connect serious sellers and buyers every day. I hope you've enjoyed this series and if you need more info on writing your ad, taking great pictures or videos, be sure to click through and check out the respective articles.
This post has been brought to you by one of our featured listings:
In a world full of stallions, here stands a SIRE…

6498 Total Views
4 Views Today