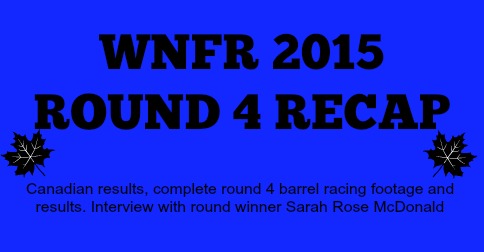 When you're hot you're hot and Clint Laye is on a roll.  Placing in his third consecutive performance, the Canadian cowboy has moved to 4th in the World Standings.  "I've been trying to stay as calm as I can, listening to slow music before the rodeo, and just staying calm so I can think clear," Laye said. "It seems to work a lot better."  This from the Calgary Herald interview after last nights 83 point ride that earned him 3rd place.
Orin Larson, also in the Bareback rode for a 78.5, in the Saddle Bronc brother Tyrel was bucked off, but young gun, Zeke Thurston rode for 82 points.  Unfortunately we didn't get to see that ride on the Live Stream due to an interview!
Tanner Milan was back on track posting a 3.8 to split 4th.  He also gained some ground in the average as a few that were still in it had no times.
TJ the calf horse from Nanton, AB were out of the money with an 8.3.
Deb Guelly rode "Bud Light" in the 4th round looking for the horse that will take her to the pay window.   They were off the pace last night.
Round 4 Barrel Racing Footage:
1. Sarah Rose McDonald 13.71 $26,230.77
2/3. Cassidy Kruse 13.85 $18,192.31
2/3 Lisa Lockhart 13.85, $18,192.31
4. Taylor Jacob 13.89 $11,000.00
5/6 Nancy Hunter  14.03 $5500
5/6 Callie Duperier 14.03, $5500
Mary Walker 14.06
Sherry Cervi 14.17
Jackie Ganter 14.21
Carley Richardson 14.24
Vickie Carter 14.29
Michele McLeod 14.38
Deb Guelly 14.45
Jana Bean 18.74+
Fallon Taylor 18.97+
An interview with NFR rookie Sarah Rose McDonald after her round win.
6065 Total Views
4 Views Today